Long delayed pic of treats from darling friend from my days as an exchange student. The pic does not include everything, because we've eaten the kinoko (sp?) bikkies and ALL the Pocky (3 kinds!!!)– if you've ever been to Japan, and are in any way a chocoluster, you will know about Pocky, and you will be jealous as only a chocoluster can be!!!

********* NEWS FLASH *************
You can read about Pocky on Wikipedia
on the Pocky website (in Japanese)
watch some episodes from The Depths of Addiction
find out what flavour you are – this is me: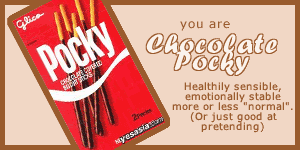 what flavor pocky are you?

[c] sugardew
visit the
Pocky Shrine
or watch this commercial!